Buy 1, Get 1 Free:
LIMITED TIME ONLY!! WHILE SUPPLIES LASTS!!
**BOGO Discount is automatically applied in cart**
______________
Discount Codes Listed Below For Up to 25% OFF

USE DISCOUNT CODE: 25%OFFBRIDLEPARTS
______________
USE DISCOUNT CODE: 20%OFFGIRTHS&CINCHES
______________
USE DISCOUNT CODE: 15%OFFSADDLEPADS&HALFPADS
_____________
USE DISCOUNT CODE: 10%OFFFORTHERIDER
_____________
USE DISCOUNT CODE: 5%OFFHORSEBOOTS
_____________

Saddle Repairs & Maintenance Services
**Extra discount incentives for multiple saddles receiving the same service**
- 5% OFF for 1 Saddle
- 10% OFF for 2 Saddles
- 15% OFF for 3 Saddles
- 20% OFF for 4 Saddles
- 25% OFF for 5+ Saddles

Billet Replacement ~ Billet Alteration/Adjustment ~ Complete Strip/Reflock for Wool Flocked Panels ~ Panel Conversion (Foam/CAIR/Flair to Wool Flocking) ~ Flocking Adjustment ~ Alignment/Straighten Crooked Panels ~ Widening Saddle Channel ~ Adding D-Rings (front and/or rear) ~ Reinforce Stitching ~ Nameplate Installation and/or Removal ~ Western Saddle Repairs & Alterations
**Additional Services Available; Please Inquire to Discuss**
CLICK HERE FOR MORE INFO & PRICING ON OUR SERVICES
About Aiken Tack Exchange
Aiken Tack Exchange is a discount and consignment equine based store. We have everything for the rider, horse, barn and home. Do you have saddles and/or other equipment that you no longer use? We consign used saddles, apparel, equipment, etc. of most disciplines.

Are you looking for a saddle? We offer local & shipped trials on our saddles and have independent certified saddle fitters on staff to help you with your saddle fitting needs.

Do you need any work done on your saddle and/or tack? We offer repair services and alteration/adjustments on saddles and tack.

We strive to cater to all your equestrian needs.
**Please note: If you would like to use your store credit towards your purchase, please contact us directly at (803) 989-6093 or email us at aikentackexchange@gmail.com

Newly Listed - Full Inventory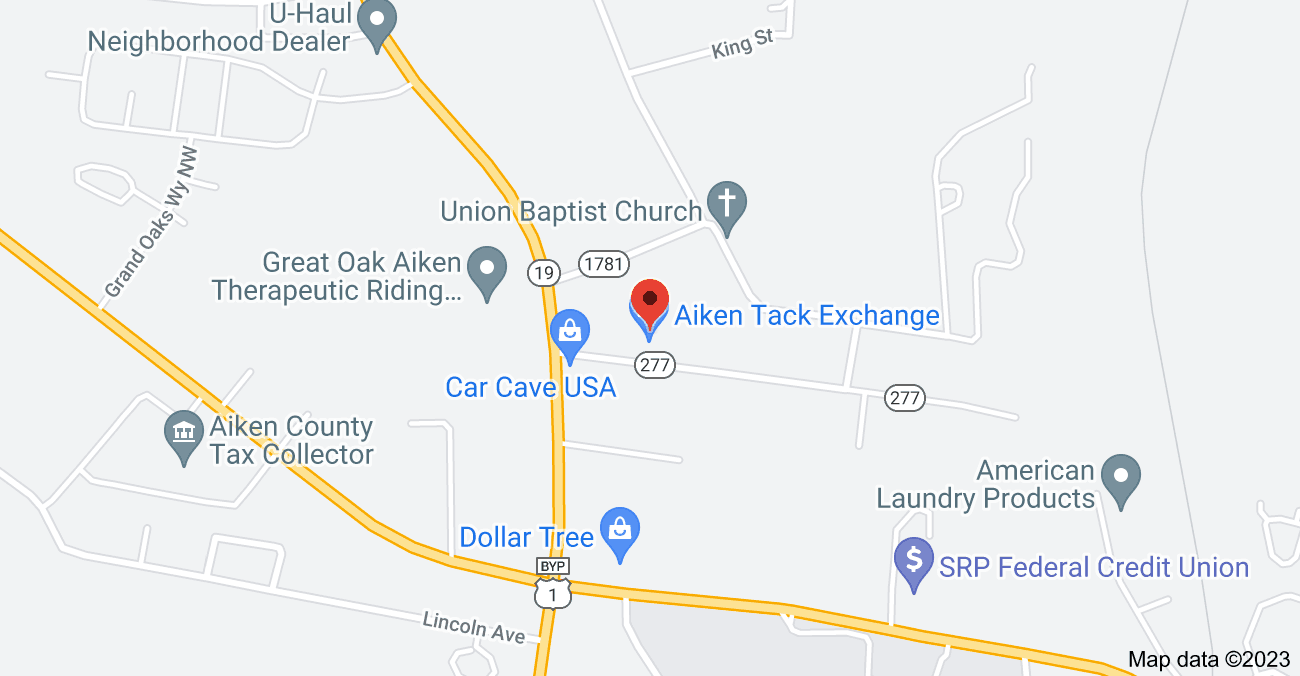 **As of April 1, 2023, Aiken Tack Exchange has moved to a new location**
127 Hedge Road
Aiken, SC 29801
Directions: From Downtown Aiken, head north on Laurens Street for 1.5 miles. You will see Great Oak Therapeutic Riding Center on your left & Car Cave on your right. Turn right onto Hedge Road, just past Car Cave. The property will be 0.1 miles on your left.